THE RIFT SAFETY GEAR TEAM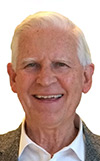 Charles Abbott has over 40 years' experience in Australian and international legal practice. He holds a Legal Practicing Certificate and is a member of the Law Institute of Victoria, practicing under the name of Eagle House Law. In this role Charles carries out corporate services, mergers and acquisitions (M & A) and capital raising business for small- and medium-sized enterprises at 454 Collins Street, Melbourne, 3000.
Charles was a senior partner of law firm Blake Dawson (formerly Blake & Riggall, now Ashurst) and has experience in commercial, banking and finance including leveraged leasing and structured finance (principal client: ANZ Bank).
Charles has also been a Fellow of the Australian Institute of Company Directors (FAICD) for over 20 years. Charles has held chairmanships and directorships of publicly listed property companies and trusts, private equity and corporate services companies and publicly listed international insurance companies. His legal and commercial experience has also extended to executive positions and corporate legal work including mergers and acquisitions and capital raising.
Charles was a director of insurance companies including having spent 21 years at Norwich Union Group (Deputy Chairman), Norwich Winterthur Insurance Limited and Norwich Union Life Assurance Limited which involved fund management experience.
Charles has also carried out pro bono work involving fund raising and management as Chairman of Trinity College Foundation (The University of Melbourne), as a member of the Finance committee of the Murdoch Institute and as a Director of the management company of the Hawthorn Football Club Foundation. For services to the sport of Polo, Charles was awarded an Australian Sports Medal in 2000.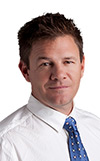 Jason Anderson is the founder of Rift Safety Gear. Jason's inspiration for Rift can be attributed to his extensive travels abroad and keen sense of openness to new experiences; to date he has visited and experienced the cultures of over 50 different countries.
Jason's background prior to the inception of Rift was in the supply of outdoor gear and ski clothing. During a garment sourcing trip to the Canton Fair in China in 2006, by chance Jason encountered a local safety garment manufacturer who lead the market in producing high-end safety clothing for the oil, gas, electrical and mining industries. It was at this time that Jason became interested in the safety apparel market and realised the presence of a great business opportunity in Australia. The doors of 'Rift Safety Gear' were opened to the Australian market the following year.
This initial meeting and the subsequent friendship that formed has seen Jason produce highly customised clothing and safety products for some of the world's largest oil and gas companies. Over the past ten years, Jason had adopted and maintained a 'Know No Boundaries' attitude that has ensured Rift's continued success and evolution in the design and manufacture of personal protection equipment.
Jason's ability to establish relationships and to take a brief from a client and deliver a custom made solution that fulfils specific industry requirements is unique and has been the foundation of his continued business success. His passion for exploring safety solutions and commitment to design and manufacturing excellence has seen Rift Safety Gear establish itself as a leader in custom-made safety apparel.
Aside from founding and growing a successful business in Australia, Jason has extensive past experience in working with troubled and underprivileged youth, having been employed as a Youth Worker for the Department of Human Services at the Melbourne Juvenile Justice Centre. This experience has helped define Jason's individual drive to succeed at whatever life throws at him.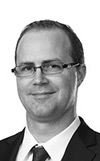 Michael has over 10 years' experience in senior leadership and executive roles with a strong focus in the areas of commercial management and strategic direction. He co-founded BAWM Pty Ltd which became one of Victoria's largest private Registered Training Organisations with over 80 staff prior to its sale through Initial Public Offering in 2013.
In addition to owning and growing his own business Michael has consulted to businesses for nearly 10 years providing advice and support in the areas of analysis, information management and commercial management.
Michael's business passion lies in supporting the development of strong commercial structures which support efficient and effective operational activities.
He has a keen philanthropic interest, having spent considerable time during his career working within the not-for-profit sector. He has also served on the board of charity organisations and is currently a Director of local charity Future Foundations as well as being a co-founder of the Broadtree Foundation. Michael is also currently a director and co-founder of property development group DSM, which manages almost $50M in property assets.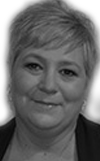 Vicki has over 30 years' experience coordinating and managing the administrative and finance requirements of a wide variety of businesses.
At a young age Vicki began working in her family's business and since this time she has maintained a very strong work ethic. She is passionate about the businesses she is involved with and prides herself on her ability to work under pressure, to complete a wide range of tasks and develop strong relationships.
Vicki has been involved with Rift Safety Gear since 2014, overseeing the financial, organisational and administrative aspects of the business and ensuring that operations always run smoothly.
Having grown up on a family farm in the Western Districts of Victoria, Will Abbott graduated from the University of Melbourne in Economics and Philosophy and completing placements for ABN Amro and Copia Investment Group. Will then joined the Hong Kong investment bank, First Capital Partners in Shanghai as an Analyst and later Project Manager. Helping support the mergers & acquisitions team and mainly assisting foreign companies to acquire Chinese assets and companies.
Will later joined ANZ Banking Group (China) and quickly ascended through the ranks, running the strategy and analytics for the Commercial Banking China 'startup', which grew from zero to 55 staff across 4 cities within three years. He then held the Head of Business Banking China position and later Head of Australia New Zealand Desk (China) in Corporate Banking, based in Shanghai.
Since leaving the bank, Will successfully raised Chinese capital from ultra high net-worth individuals on behalf of Australian fund managers and projects. Plus provided strategic advice on China for several private and listed Australian companies under the banner of Mount William Investment Group. Will has raised Chinese seed funding for Global Farms Direct, targeting high-end Australian produce for the Chinese market and helps drive this project forward in Australia.
Will's 12-years in China developed many leadership and life skills. Will held the Presidency of the Shanghai Tigers AFL Club for five years, was a finalist for the Australia China Young Alumni of the Year and lived in rural China studying kungfu. Prior to China, Will raised part of the funds and worked on an aid project in Costa Rica for underprivileged school children, with the United Nations Development Program (UNDP), and has traveled extensively to over 35 countries.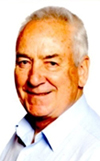 As a sales and marketing professional, Ross has worked in the Energy Sector with Origin Energy for the last twenty years and prior to this, with Powercor Victoria within their Network division.
At Origin, Ross was responsible for the development and management of a property channel strategy that covers sales and sales support to deliver energy connections (electricity, natural gas and bulk hot water) to the building industry on a national basis. This role delivered over $20m in revenue per annum over the twelve years of operation and secured Origin's major market share in new construction connection.
Ross has also managed his own marketing consultancy for over eight years and was a General Manager for Adrenalin Sales Promotion's Victorian office.
Ross' expertise is in the building of brands and channel strategy to deliver a product or service to the relevant market and at Rift, he will be responsible for the brand positioning and market approach. Ross is passionate about relationship management and the delivery of excellence through customer service and integrated technology.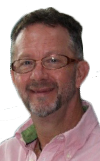 Leigh's knowledge, skills and abilities have been derived from extensive and diverse industry experience in both the private and public sectors.
Leigh has had various roles from front line to management and is qualified in risk management and human resources.
He has also worked in mining, power generation, and major construction projects and runs an independent consulting business; he has also forayed into natural resource management with the Northern Territory Government.
Leigh has vast experience in manufacturing and in the power, oil and gas industries, and he has become highly knowledgeable about the safety apparel requirements in these fields. As such, he has naturally progressed to become Rift's Sales Representative in the Northern Territory.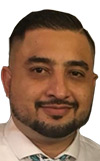 Omer has over 15 years of experience in the Australian mining, oil and gas industries. He has managed some of Australia's largest PPE tenders and dealt with a range of specialist services, and his main focus has always been on delivering positive outcomes for his clients. Over the past few years Omer has worked exclusively in the drilling and mining exploration industry.
Omer thrives on the relationships he has built by building a strong working network. Over the years this has included travelling to some of Australia's most remote mining sites. Having in-depth experience of working on-site and in the office, Omer understands the requirements to deliver high quality goods, on time, for any major project.
Omer is a Dynamic Business Development Manager who enjoys overcoming a challenge and assessing technical information and delivering solution-based outcomes. He has a passion for mining, oil and gas and has plans to continue developing himself by constantly learning to further enhance his skill set.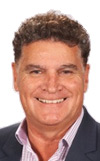 Robert has extensive industry knowledge after having gained over 35 years' experience in the retail and wholesale apparel industries. He has held senior management roles at Myer, Target, Just Group and Indochine International (USA), and at Wesfarmers Workwear Group, he was responsible for managing compliant workwear apparel resulting in turnover of over $220 million.
Robert excels at establishing strong working relationships with global corporate customers through his commitment to ensure his clients receive the highest standard of care and his close attention to detail. He recognises the importance of developing and maintaining long-standing relationships with certified fire-resistant and personal protective equipment vendors and through his previous work he has established a vast global network. Robert has previously developed custom workwear products for a range of large multinational and small specialist companies across the United Kingdom, South East Asia, the United States of America and Australia-New Zealand regions.
Over the past five years he has taken a lead role in major projects for New South Wales Fire, the New Zealand defense forces, New South Wales Police, Downer and BHP. He has also managed iconic Australian brands including Yakka and King Gee workwear and in the U.S.A., Dickies Workwear.
Robert's management style incorporates high-level strategy and forward-thinking. He maintains a 'hands-on' practical approach and has a passion for progress through innovation. He has a proven record in contributing to the significant success of these companies, with his wholesale and sourcing teams guided by a focus on high quality and attainment of the 'right' price equation that ensures low overheads with maximum margin return for the customer.
Robert holds particular expertise in identifying market trends and opportunities and sourcing and creating ethical and sustainable supply chains, purpose-built compliant facilities and workforces that adhere to strict international quality and safety standards. He strives to explore opportunities to push into new international markets to enhance growth in the protective and safety industry. His commitment to these processes has resulted in him having lived for long periods in the USA and South East Asia in order to implement projects on behalf of multinational and large corporate companies.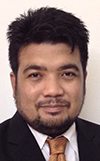 Hafez Dato' Darus has over 15 years of sales experiences in the oil, gas, petrochemical and mining industries in Malaysia and surrounding countries.
He has a vast knowledge of all industry safety standards and works closely with clients to ensure that the safety garments supplied meet the relevant standards and specifications to protect staff from workplace hazards.
Hafez is highly motivated and driven and has had success in linking Rift Safety Gear with the Asian mining market.